Every enterprise that plans to expand into the eCommerce sector seeks a reliable platform. Salesforce Commerce Cloud (SFCC), previously known as 'Demandware', has emerged as a popular solution for global retail giants. But is it the right pick for you?
1. Salesforce Commerce Cloud at a glance
Not just an online shopping cart, Salesforce Commerce Cloud is a cloud-powered commerce platform designed to cater to the intricate needs of businesses. In a nutshell, it's about combining Sales, Marketing, and Services, presenting them in a seamless, unified manner.
According to Salesforce, "Commerce Cloud is the world's leading B2C and B2B commerce solution, providing a comprehensive, unified buying experience across channels – be it mobile, social, web, or in-store."
2. What makes Salesforce Commerce Cloud unique?
SFCC isn't just another eCommerce platform; it stands apart in the crowded market. A key advantage is its deep-rooted emphasis on creating personalized shopping experiences across multiple channels – be it online, mobile, social, or in-store. This cloud-based solution is equipped with tools tailored for comprehensive online sales operations, from product catalogs to shopping carts and payment systems.
As a cloud-based platform, Salesforce Commerce Cloud effortlessly scales to accommodate traffic surges, ensuring businesses remain efficient even during peak times. Continuous upgrades roll out in the backdrop, guaranteeing businesses always have access to the latest features.
Beyond these, its strength lies in its integrative prowess. The platform seamlessly connects with pivotal business systems like CRM, ERP, and POS, creating a cohesive operational environment. For those in the B2B segment, the platform further tailors its offerings, providing tools that empower businesses to meticulously craft the entirety of the customer journey.
3. Is it the right fit for my business?
While Salesforce Commerce Cloud can elevate a variety of businesses, it particularly resonates with mid to large-sized companies. These businesses often grapple with high sales volumes and a pressing need for scalability coupled with advanced features. The integrated nature of the platform, merging sales, service, and marketing, allows these organizations to have a holistic view of their customer lifecycle, leading to enhanced customer experiences.
However, it's crucial to note its revenue share model, where the platform's cost is tied to the client's revenue growth. This 'shared success' model might not appeal to everyone, especially high-volume, low-margin retailers. The financial arrangement means that as your business flourishes, so does your cost of using the platform. While this can be viewed as a sign of mutual growth and partnership, for businesses operating on tight margins, this can erode their profitability. It's essential for businesses to thoroughly analyze their financials, growth projections, and the potential ROI from Salesforce Commerce Cloud before making a commitment.
Highlights from the feature set
Einstein: Predictive AI
Einstein is Salesforce's foray into the realm of AI. Integrated into Commerce Cloud, Einstein meticulously studies customers' behaviors. From these insights, it creates bespoke recommendations, shortening their decision-making time and amplifying their overall experience.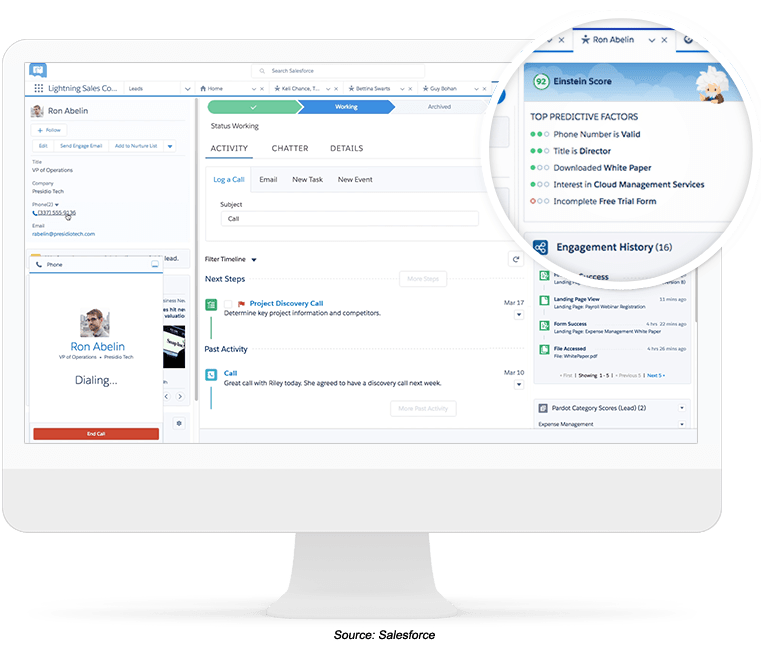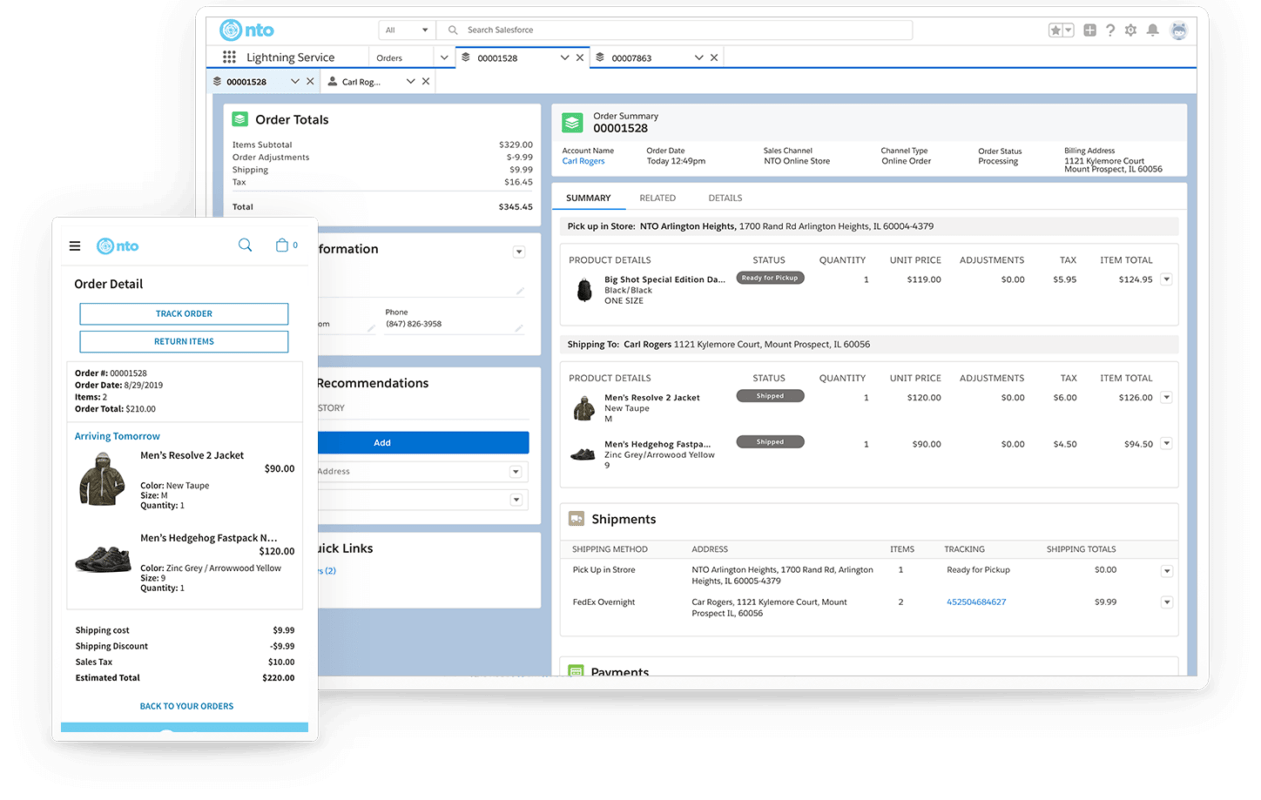 Order management
SFCC allows you to streamline and enhance your global order fulfillment and delivery. It automates payment procedures and efficiently handles returns and cancellations.
Comprehensive omnichannel suite
Salesforce Commerce Cloud offers a comprehensive omnichannel suite that seamlessly connects customers across all touchpoints, both online and offline. It ensures a flawless customer journey, from website browsing to offline pickups. For international businesses, SFCC routes inquiries to agents fluent in the customer's language, recognizing past interactions across platforms to provide consistent, tailored support.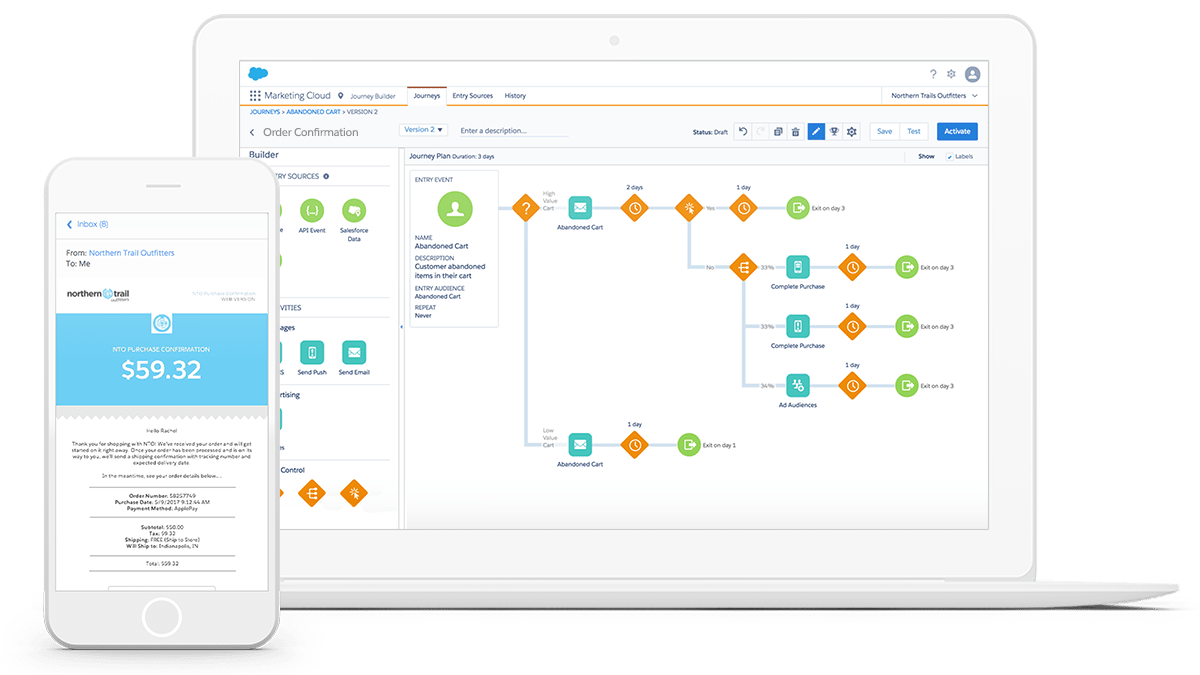 Optimized internationalization
SFCC simplifies localization for businesses, accommodating country-specific regulations and market nuances. It aids in adjusting to varying taxation policies, such as those between the US and EU, and tailors marketing, branding, language, currency, and sociocultural considerations for each region.
Flexible design options
Commerce Cloud lets you craft a distinctive and user-centric eCommerce journey. It simplifies the one-page checkout and was among the pioneers to support Apple Pay online, facilitating a seamless one-touch transaction process.
5. Limitations
Despite its strengths, Commerce Cloud has certain challenges to navigate. Its extensive suite of features, while powerful, can sometimes overwhelm, making specific functionalities elusive. Its framework and associated costs may not be well-suited for smaller businesses or startups. Furthermore, the shared revenue model it employs might not resonate with or be beneficial for all business models.
Brands excelling with Salesforce Commerce Cloud
New Balance: An exemplary SFCC website
New Balance is a longstanding partner of Salesforce Commerce Cloud. They have utilized the platform to elevate the shopping experience. Their outstanding strategy and implementation played a role in their impressive revenue of $5.3 billion in 2022. Check their website here.
GUESS: A transformation tale with SFCC
In 2019, Guess embarked on a comprehensive digital transformation journey, aiming to boost sales to a staggering $250 million by 2025. By leveraging Salesforce Commerce Cloud, Guess witnessed immediate improvements in website speed and reliability, slashing homepage loading times by 72%. They further personalized their eCommerce experience using Einstein, targeting specific products to customers and thereby achieving higher conversion rates. Now, Guess is poised to reach its financial goal two years ahead of plan. For a deep dive into their success, read their story here.
Formula 1: Racing ahead with SFCC
After the surge in its popularity from the 2019 Netflix series "Drive to Survive", Formula 1 faced a delightful challenge: understanding and engaging their influx of new fans. Salesforce became their ally, with its customer data insights tools being pivotal in connecting with and retaining this audience. For instance, when fans register for a Formula 1 event, representatives can instantly view details such as the fan's name, engagement history, favorite drivers, and past purchases. Post-race, Formula 1 fine-tunes their communication to each fan, referencing their favorite driver and suggesting products based on prior purchases. Intrigued about their success strategy? Dive into their complete story here.
Final thoughts
Salesforce Commerce Cloud stands out as a robust, scalable e-commerce solution. Whether it's the right choice hinges on your business's nature, and its specific needs for customization, flexibility, and desired agility.
At this juncture, Exo steps in. Our seasoned SFCC specialists can guide you, weighing the platform's benefits against your business objectives, and ensuring a fitting choice.